13u Team Battles Back For Runner Up Finish In Aurora
Congrats to Coach Rob and the 13u team for a runner-up finish this weekend in Aurora!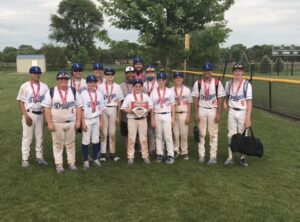 After an 0-2 start to the weekend, the Dodgers rattled off back-to-back wins to secure a place in the silver bracket championship.
Michael Lobo led the charge in the quarter-final game going 3-3 with 3 doubles in addition to 5.1 innings on the mound.  Gavin Cloninger added a pair of hits and Grady Boeche and Jake Losik each drove in two runs.
In a close 2-1  semi-final win, Michael Villareal took a hard earned win on the mound going 5.1 innings of 1 run ball with 8 Ks.  Shea Lewis drove in what would be the winning run when he plated Lobo in the top of the fifth inning.
The championship game took the 13u squad into a crazy extra innings battle.  In the end the Dodgers fell 12-11 in 8 innings.  Grady Boeche led the offensive explosion with a 4-5 night and Kieran Fitzpatrick, Shea Lewis, Gavin Cloninger, Jake Losik, and John Bazula all tallied 2 hits in the contest!
It was a great first tournament for Coach Rob's group and there is much to build on for this tough-nosed group!